P o r t i a a n d C o r d e l i a 2 0 1 0

C r u c i b l e , S h e f f i e l d , U K .


To celebrate an extensive refurbishment of the iconic Crucible Theatre (Home of World Snooker), ACE with Sheffield Theatres Trust and BFF Architects commissioned Sarah Staton to create a number of integral, functional, incidents of magnificent sculptural furniture to animate empty or darker moments within the theatres generous interior public spaces. The sculptural furniture and asymmetric floor design are created in dialogue and as hommage to the orginal bold and graphic detailing of the building.

Designed by RHWL & Associates, in close association with designers Tyrone Guthrie, and Tanya Moiseiwitsch, The Crucible Theatre opened in 1971. The theatres design is notable for it's elegant capacity to readily accomodate the flow of a full house as they pass from box office to lobby to the interior thrust stage, one of just two such progressive designs within this country.

The Crucible Theatre is one of a group of theatres which are considered to be the most influential and architecurally distinguished examples of their generation. It displays a number of innovotive features of architectural interest; for example, the design of the thrust stage; the profile of the building and the relationship it has with the landscape as well as the exceptional use of concrete blockwork, both on the interior and exterior.

The Crucible is the main producing venue in the Sheffield Theatres complex, comprising a 400-seat studio theatre (for drama and music) as well as the main 980-seat auditorium. It also hosts the annual World Snooker Championships.

Giant Clock Bench for the Lobby makes a perch space and a meeting place for visitors. Embedded behind coloured glass panels are leds that glow softly like a sleeping Mac Book, hitting a cresecendo of activity on the hour every hour. A clock bench that celebrates slow time.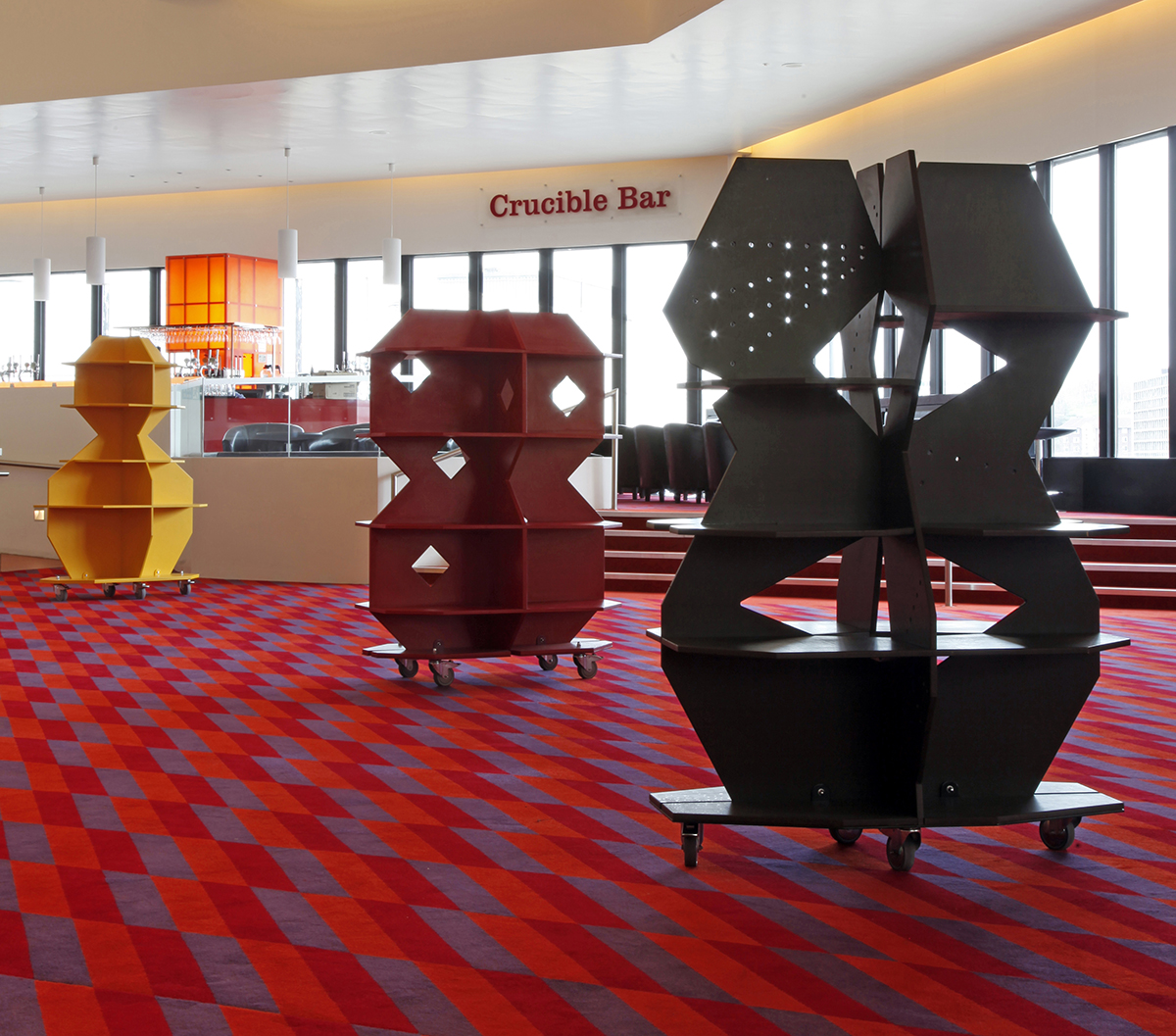 During the lull of the first act, a series of
Giant Hostess Trollys
are wheeled into the lobby providing spaces for prebought interval drinks to be poured. These silent actors are named after Shakesperean actresses as is appropriate for the context.
As you can see in the previous image, for the refurbishment, a new take on the orginal 1970's carpet was created in red, orange and lilac. Here, Staton has followed the foyer carpet design with a pattern created from dark and pale stained oak for the new function room that extends towards Tudor Square.


Photo credit: Jerry Hardman Jones